Custom Eco Cups
Stand out with personalized eco friendly cups! Talk to one of our custom specialists today.
"Awesome customer service... unbeatable prices... great quality products ... More companies should be run like this! Thank you!"

- Debbie

"They've got great customer service. Their pricing is easy to find and understand. And their cups look amazing."

- Jared

"Best experience I have ever had with a company! Willing to go above and beyond for their customers."

- Bart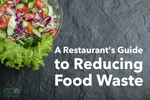 In the United States, between consumers and retail (restaurants and stores), 31% of the food supply is wasted every year. This is equal to 133 billion pounds and nearly $162 billion worth of food (
according to the USDA
). While some of this is due to food spoiling, a lot is because of restaurants and grocery stores over-ordering or misuse while cooking.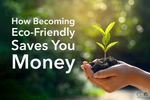 Many people associate being eco-friendly with spending more money. While some eco-friendly products are more expensive than their traditional counterparts, being eco-friendly as a whole will save you money. We'll tell you how.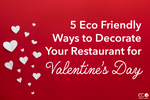 Valentine's Day is known for being a high-waste holiday. Things like glitter and plastic run amok on store shelves. If you're running an eco-friendly restaurant, you can decorate for Valentine's Day while still preventing a lot of waste. Here are 5 eco-friendly ways to decorate your restaurant for Valentine's Day.
Welcome to Eco-Friendly Supplies
We're Restaurant Suppliers!

Running a restaurant can be difficult. Between biodegradable food packaging, recycling, and investing in quality supplies, promoting sustainability is a daunting task. That's where we come in! Here at Eco-Friendly Supplies, we have everything you'll need to foster a sustainable restaurant at an affordable price.
We Only Offer the Best Biodegradable Products!
Especially when offering take-out and to-go options, keeping your restaurant eco-friendly can be difficult and expensive. That's why we offer eco-friendly and sustainable options at low prices. We have a wide variety of styles, colors, and patterns for anything you need. We have recyclable food packaging, compostable food packaging, and many more biodegradable products. Try our fun and bright paper cups or our fully biodegradable paper straws. None of our products have obnoxious logos that take away from your individual branding. All of our colored containers are made with soy-based ink that is completely biodegradable. While using our products, you don't have to worry about adding harsh plastic and chemicals to landfills or the ocean. We are dedicated to helping you be eco-friendly!
We Value Transparency!
There's nothing more frustrating than finding the perfect product for your restaurant, adding it to your cart, and having the price double from fees and shipping! Here at Eco-Friendly Supplies, there are no hidden fees. The price you see is the price you'll pay. We offer free, fast shipping and low-cost expedited shipping. We value transparency, if you're ever confused with our pricing or have questions about our products, please contact us at (480) 428-1999 or email us at
customersolutions@ecofriendlysupplies.com
. 
We're Here for YOU!
Eco-Friendly Supplies was founded on the premise that our customers want eco-friendly and sustainable options for everyday things. If you're searching for biodegradable food containers wholesale, look no further. We have everything you need here. Our purpose is to serve you! We only offer the best quality products at the lowest prices. If you're not fully satisfied with one of our products, you can easily return it for a full refund.
Contact Us Today!
Great Service

You'll talk to a real person, and we're pretty nice too

Free Shipping

Get your cups fast and don't pay for shipping

No Hidden Fees

Our low prices aren't too good to be true