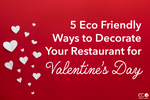 5 Eco Friendly Ways to Decorate Your Restaurant for Valentine's Day
Valentine's Day is known for being a high-waste holiday. Things like glitter and plastic run amok on store shelves. If you're running an eco-friendly restaurant, you can decorate for Valentine's Day while still preventing a lot of waste. Here are 5 eco-friendly ways to decorate your restaurant for Valentine's Day.
1. Use Living Plants
Flowers and bouquets are a big deal for Valentine's Day. There are a few issues with this: cut flowers are typically grown in greenhouses and transported in temperature-controlled trucks. Both of which emit innumerable amounts of CO2. Another issue is artificial flowers. They're made from plastic and other non-biodegradable materials.
The best way to bring in nice foliage to your restaurant while staying eco-friendly is to use living plants. Go to your local plant nursery and pick up some potted plants. You can decorate with these the same way you'd decorate with bouquets.
2. Make Cup Lights
Via Fustany
Twinkle lights are always a fun decoration for Valentine's Day. You can give them a romantic twist with eco friendly cups. All you need to do is cut an "x" shape in the bottom of your eco friendly cups with a craft knife. From there, you can poke your twinkle light through the hole in your eco friendly cup. You can now hang your lights as normal with their new covers. Make sure to use LED or other energy-efficient lights.
3. Keep Your Chocolate Fairtrade
The chocolate market is rife with unethical labor practices. When you're sourcing cocoa and chocolate for Valentine's Day specials, look for fairtrade chocolate. It's typically a bit more expensive than regular chocolate, but your customers will appreciate knowing your chocolate was produced ethically, just like they appreciate knowing you use eco-friendly supplies.
4. Make a Paper Straw Wreath
The best decorations are made from things you already have! You can make a pretty heart-shaped wreath out of some supplies you have in your restaurant. 
Via Woman's Day
You need 200 pink paper straws, hot glue, heart shaped wreath form, 1 in or larger white ribbon, and a wreath hook.
Start by wrapping your wreath form with your ribbon and secure with hot glue. Then, glue your first layer of paper straws to your wreath form. Make sure to keep them flat. Cut a few straws to 3/4 of their original length. This will be your second layer of straws. Glue them in any open places on your wreath. This will give more texture and interest to your wreath. Use your wreath hook to hang your wreath where you want it.
5. Use Fabric and Paper Scraps
When making signs and decorations, get crafty! Save fabric and paper scraps throughout the year and make decor from them. You can make pretty collages and signs from fabric and paper scraps. This can help eliminate waste in your restaurant.
If you're an eco-friendly restaurant, you don't have to skip decorating for Valentine's Day! These are some easy decoration ideas so you can decorate your restaurant for Valentine's Day and stay eco friendly.