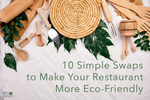 10 Simple Swaps to Make Your Restaurant More Eco-Friendly
Becoming an eco-friendly restaurant can seem daunting, expensive, and overwhelming. It doesn't have to be! Becoming a more environmentally friendly restaurant means making simple swaps to more eco-friendly alternatives. Here are 10 simple swaps to make your restaurant more eco-friendly.
1. Use Compostable Cups
Surprisingly, traditional paper cups aren't all compostable. They're usually coated in a thin layer of PET plastic. Compostable paper cups are coated in PLA or corn starch plastic. Unlike traditional paper or plastic cups that break down after a few years or never break down at all, compostable paper cups break down quickly! They're a simple switch you can make to put less in the landfill.
Compostable cups with lids and compostable ice cream cups
2. Shop Local
Buying produce from local farms is much more eco-friendly way to supply your restaurant. Because they don't have to travel as far to deliver your food, you cut down on carbon emissions. Alongside that, you're supporting smaller, local businesses.
3. Use Wooden Utensils
Especially if you have a lot of take-out and to-go orders, you're going to use a lot of disposable utensils. Traditionally, they're made of plastic. Plastic utensils take up a lot of space in landfills and they don't biodegrade. A simple swap you can make is using wooden utensils instead!
Wooden spoons, wooden forks, and wooden knives
4. Use Purified Water and Soda Fountains
Plastic bottles don't biodegrade. Serving bottled water and soda may be a more contained option but it's much less eco-friendly. Invest in a soda fountain or serve tap water. This will save an innumerable amount of plastic.
5. Start Composting
Composting is a great way to use food scraps and compostable trash again rather than sending it to a landfill. Rather than just throwing away scraps like this, you can compost them! You can sell your compost or use it for a garden. There are endless possibilities.
6. Reduce Food Waste
More than 40% of the food that's grown, harvested, and transported in the US is never consumed. Some food goes to waste because of spoiling but the majority is good food thrown away for no reason. You can reduce food waste in your restaurant by modifying your menu to include seasonal produce, donating uneaten meals and food, and offering specials using your excess food.
7. Use Paper Straws
Plastic straws are known for their wastefulness. You use them once and then they go straight to the landfill. Paper straws are a direct swap that adds some style too! They're biodegradable and way cuter than plastic straws.
8. Use Eco Cleaners
As a restaurant, you're constantly cleaning -- floors, bathrooms, tables, kitchen surfaces, everything! Many cleaning products have harsh chemicals the end up in the environment. Making the switch to natural and eco-friendly cleaning products is an easy way to keep your restaurant environmentally friendly.
9. Reduce Energy Usage
Not only is electricity expensive, using a lot of it can increase your carbon emissions by a lot. You can reduce your energy usage by switching to LED light bulbs, keeping your lights on motion censors, and making sure appliances are unplugged when not in use. Reducing your energy usage will decrease your carbon footprint and your electric bill.
10. Consolidate Shipments
Vehicles, especially shipping trucks, have a massive carbon footprint. Rather than getting food and supplies delivered multiple times a week, ask your supplier to consolidate your shipments to all arrive the same day. This will be easier for them as well!
Being a friend to the environment isn't as hard as you think! These simple swaps will help your restaurant become more eco-friendly.