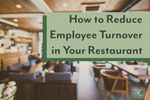 How to Reduce Employee Turnover in Your Restaurant
The restaurant business is known for employees coming and going in a snap. This means you'll spend more time training and hiring. Here's a simple guide to reducing employee turnover in your restaurant.
1. Invest in Your Employees
Spend time and money on your employees so they know they aren't expendable. If your restaurant has required uniforms, you should be the one providing them. Pay for classes and seminars so they can improve. Investing in your employees shows them you want them to succeed. 
2. Train Them Well
Your employees aren't baby birds, you don't need to throw them out of the nest! Adequately training your employees is the best way to give them the confidence to do good work. Take the time to thoroughly train your employees on every aspect of their job. This investment allows them to feel appreciated and prepared for their role.
3. Incentivize Longevity
Reward your employees for staying with you. You could offer quarterly bonuses or raises. People want to be recognized for the work they've done.
4. Allow Room for Growth
Build a ladder of advancement for your employees. Give them opportunities for growth, like small bumps in their responsibilities. If your employees feel like they're progressing in their job, they'll be more apt to stay.
5. Communicate Openly
As the proprietor of your restaurant, communicating with your employees is an important responsibility. Give your employees frequent opportunities for open communication. This can be the willingness to text back and forth with them or scheduling regular one-on-one meetings with them. 
When your employees feel valued and appreciated, they'll be more willing to stay with your restaurant. If you follow this simple guide, you're sure to have much higher employee retention.