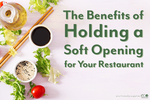 The Benefits of Holding a Soft Opening for Your Restaurant
Restaurants are an ever-growing industry. Because food-service is a consumer-based industry, feedback is one of your most important tools for improvement. When starting your restaurant, you can hold a soft opening to generate feedback and prepare for your grand opening.
If you want to learn more about the benefits of hosting a soft opening for your restaurant, keep reading!
Prepare in a Controlled Environment
Practice makes perfect! There's only so much practicing you can do without any customers. A soft opening is a chance to practice coordinating your front- and back-of-house operations, nail down your menu, and perfect your restaurant opening. You can prepare a limited version of your menu as a sort of preview for your full menu. A soft opening can prepare you for your grand opening in a way nothing else can.
Get Real Feedback
Soliciting real, honest feedback from your invited guests allows you to better understand how to improve. After your soft opening event, you can have your guests take a survey about their experience. Their feedback is another great tool for preparing to fully open your restaurant.
Generate Publicity
Among your invited guests should be reporters for local media outlets. Send a media alert or press release to your local newspapers and food blogs. You can invite the press to generate buzz about your upcoming restaurant.
Here's a helpful article about writing media alerts and press releases.
Soft openings are a great way to generate direct feedback for your restaurant and better prepare for your grand opening. You can't go wrong hosting a soft opening for your restaurant.