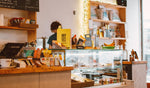 How to Find the Best Digital Loyalty Program for Your Business
Returning customers spend 67% more on average than new customers (according to HubSpot). Converting new customers to returning customers is as simple as making them feel valued and rewarding them for coming back. There are many ways to do this. This blog post features many good options. The option I'll be focusing on today is digital loyalty programs.
Is a Digital Rewards Program Right for Your Business?
There are two different types of loyalty programs: digital and physical. If your business is primarily people older than thirty, digital punch cards may not be the best option. Older adults tend to shy away from digital programs because they're wary about giving out their information. Younger adults, however, are more receptive to digital loyalty programs because they're primarily phone-based. Less younger adults carry their wallets with them but they always carry their phones.
If your customers are primarily under or around the age of thirty, a digital loyalty program is your best option. For more information about the differences between digital and physical rewards programs, read this blog post. 

What are Your Options?
Digital loyalty programs are a great way to convert new customers to returning customers. There are three main types of digital loyalty programs: digital cards, independent apps, and POS integrations. Whatever your business, there's a digital loyalty program that will work for you.
1. Digital Cards
Digital cards are loyalty programs you keep in your phone's wallet (Apple Wallet or Google Pay). These are a good option because your customers don't need to download a third-party app. With a program like Loopy Loyalty, you have the ability to design the punch card and decide what the rewards are for free.
The downside of programs like this is that you can only reward from punches. You can't set up a point system or offer rewards for birthdays. They're less customizable.
2. Independent Apps
Independent apps have a lot more freedom when it comes to rewards. Apps like Stamp Me allow for rewards based on points or punches. They can also involve text and push notification alerts and birthday rewards. The biggest plus of these kinds of systems is that you can see analytics. You can better understand how well the system is working.
There are a few downsides to systems like this. One is the price. Stamp Me can cost anywhere from $19-$119 per month. If you want a more customized app, it costs more than that. Another downside is that, to use programs like this, customers have to download an app. For a lot of younger adults, this is a deal-breaker. There's a finite amount of space on phones and people don't want to take it up with apps they won't use much. If they love your business enough, however, they will make the sacrifice.
3. POS Integrations
This is the best option for businesses with an older client base because it's the least amount of work for them. If you use a POS system like Square, you can integrate your loyalty program into your point-of-sale. This means your customers don't have to download an app or keep anything on their phones. It all goes through the POS device in your business. All they have to do is type in their phone number. They get an automated text message when they have new rewards or points. It's the least amount of effort for the customer.
The downside to these kinds of systems is that they're more expensive. If you're using Square, it can cost anywhere from $45-$105 each month. If you have a bigger budget for loyalty programs, POS integrations are probably your best option. To learn more about different point-of-sale systems for your business, read this post.
Returning customers are an integral part of any business. Having a digital customer loyalty program is a great way to convert new customers into returning customers. Finding the best digital loyalty program for your business is all about research and understanding your customers. Once you know what your customers are willing to do for rewards, you can understand how to better your business.