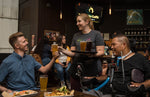 Three Ways You Can Have the Best Customer Service
Customer service is the most important part of any business besides the product. It's what customers remember most. Good customer service creates loyal customers, while bad customer service ensures your customers won't come back. The most common part of negative online reviews is bad customer service. If you want to learn more about building customer loyalty, read this post on our sister site, Frozen Dessert Supplies.
How You Can Have The Best Customer Service
1. Train Your Staff
One of the biggest mistakes you can make as a business owner is not training your staff on customer service. Even if they're naturally good at working with people, they still need to be trained so your tone as a business is consistent. Beyond that, they need to understand the product well enough to be comfortable answering your customers' questions. When your staff is confident interacting with your customers, it creates a more positive view of your business.
2. Listen to Your Customers
Customer service is about listening to your customers. This means hearing their feedback in person and online. Check Yelp and Google Reviews regularly and reply to the reviews your customers leave, both good and bad. Resolving issues publicly through reviews gives your customers a good impression of your business and it shows your willingness to help them.
3. Be Genuine
Because of their training, your employees will know the products well enough that they can recommend what they like. They should also feel comfortable enough to be honest about your products. If your employee doesn't like something, they should feel comfortable saying they don't like it as much as another one. This will build trust with your customers.
Your employees should also be bright and positive when interacting with customers and with each other, however, false positivity makes people uncomfortable. If they're confident in what they're saying and comfortable with the customers, it will be easier for them to have a good attitude. 
Customer service is incredibly important for any business. Having good customer service promotes customer loyalty. If your customer feels heard and understood, they'll be more willing to stay with your business. This gives you a big advantage against your competitors. Having the best customer service takes more effort on your part but it's worth it for the customer loyalty you'll gain.