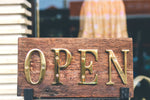 Seven Ways to Promote Business During the COVID-19 Epidemic
COVID-19 or Coronavirus has been at the forefront of our minds since WHO classified it as an outbreak on March 11. Schools have been moved online, we've been counseled to socially distance ourselves, and people are working from home. Some people don't have the option of working remotely. As a restaurant owner, you probably don't have that option either. This means you can either close your business for the time being or find ways to do business safely and without risk of contamination.
How Your Business Can Thrive During the COVID-19 Epidemic
People are in quarantine, but you can still promote business. Here's how:
1. Offer Discounted Delivery
People are staying home. Offering delivery at a discounted price is a good way to show your customers that you respect their efforts to be healthy. If you don't have your own delivery-person, you could use apps like DoorDash or GrubHub. If you do use apps like these, you may consider issuing a disclaimer to your customers that you aren't responsible for contamination from third-party delivery services. Try using these eco-friendly to-go containers!
2. Promote Take-Out and Curbside Pickup
Coronavirus can be transmitted by being within six feet of a contaminated person. Keep your distance by offering take-out and curbside pickup. This allows your customers to continue to enjoy your food without having to risk contamination. Consider having your employees wear gloves when serving food. These are a great powder-free option!
3. Offer Promotions
According to Business Insider, customers spend significantly more money when there's a sale than they do regularly. While there may be fewer people giving you their business because of COVID-19 but if you have a promotion, those people will be spending more. Consider giving a small discount for certain items or send out coupons to loyal customers.
4. Advertise on Social Media
While on quarantine, people are bound to be on social media more than normal. This would be the perfect time to advertise. Take whatever promotion you're offering and make an ad. This will bring significantly more traffic to your restaurant. For more guidance on social media ads, read this article.
5. Promote Customer Loyalty
Loyal customers are much more likely to continue to give you their business even during an outbreak. They know they can trust your product. Give them extra incentive to come back by offering better rewards. You may already have a rewards system. Use it to give customers more of a reason to come back. To learn more about customer loyalty, read this article.
6. Restrict In-Store Seating
To be safest during the Coronavirus outbreak, you'll need to restrict how many people can be in your store at one time. This means removing some tables and chairs and restricting how many people are in your restaurant. This will restrict the spread of the disease. Your customers will appreciate your concern for their health and safety.
7. Post Your Precautions
You may be making big changes because of COVID-19/Coronavirus, but your customers may not appreciate it if they don't know what you're doing. List the things you're doing to protect the health and safety of your customers and post it on your website or social media. Print it out and hang it on your door. It's important that customers know that they're safe. If they don't think they're safe in your restaurant, they won't give you their business.
As a business that can't be done remotely, you can still thrive. If you put in the extra effort to make your customers feel safe and protected in your restaurant, they will continue to give you their business. COVID-19 may restrict a lot of things, but it can't kill your business if you don't let it.
Tell us in the comments how you're dealing with the coronavirus in your business!