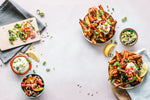 America's Top Ten Favorite Foods to Order for Delivery
Delivery is an increasingly more common way for Americans to get food. Because of the vast number of apps and third-party delivery services, it's easier than ever to have your food brought straight to your home! What are Americans ordering?
Here are America's top ten favorite foods to order for delivery:
1. Chicken Tenders
Chicken tenders are a classic meal that both adults and children love. They stay hot and crispy longer than most foods because the breading acts as insulation for the chicken. You can't go wrong with this timeless dish.
Serve it in: a vented box.
2. Spring Rolls
Bring together crispy and fresh with this popular food. The fried wrapper gives an appealing crunch and the delightfully fresh cabbage balances the dish. Spring rolls are the perfect food.
3. Pizza
The classic Italian meal turned American has had the hearts of the nation for more than fifty years. Before delivery apps, pizza has been the most-delivered food for years. You can't go wrong with this timeless entree. 
Serve it in: a pizza box. 
4. Burgers
This is another American classic that's stayed popular for years. From light veggie burgers to decadent cheeseburgers, there's an option for everyone. Burgers are an American favorite for a reason -- they're delightful!
Serve it in: a fold-top box.
5. Sushi
Sushi is a new favorite among Americans. It's fresh, spicy, and delicious. It's only been available here for a few years but it's gained popularity quickly. People love it for a good reason, it's unlike anything else. It's always a great option!
Serve it in: a flip-top box. 
6. Nachos
Nachos are the perfect mix of chips, spice, gooey cheese, and perfectly seasoned meat. Everyone loves a good plate of nachos. They're easy to share but good enough to keep for yourself.
Serve it in: a to-go bowl.
7. Pasta
Versatile and delicious, pasta is always a good decision. It's good with pesto, marinara, or even cheese. However you make it, your customers are sure to enjoy it!
Serve it in: a clamshell container.
8. Salad
Fresh, crunchy lettuce, decadent dressing, and crispy croutons -- salad is a crowd favorite. It can be healthy or indulgent. Salad is a great dish for anyone.
Serve it in: a fold-top kraft box.
9. Chili
Chili is a delightful mix of beans, peppers, and meat. Tex-mex is a favorite of many Americans because it combines classic Mexican spice with new-age American ingredients. It's always a great idea.
Serve it in: a take out bowl.
10. Burritos/Burrito Bowls
Anything wrapped in a tortilla or on a bed of rice is sure to please. Add beans, meat, and sauce, and you've got a great meal! You can't go wrong with this classic Mexican dish.
Serve it in: a clamshell take-out container.
Delivery is becoming the main way Americans get their food. It's easier now more than ever with apps and third-party delivery services. People can essentially have any food delivered to their homes!
Tell us what your most popular delivery item is in the comments! We love to hear from you.