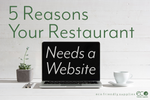 5 Reasons Your Restaurant Needs a Website
Restaurants have gone through a whirlwind this past year and one thing that's taught all of us is that every restaurant needs a website. Even if you don't have in-house delivery, your website will still bring in a lot of traffic. If you're on the fence about getting a website for your restaurant, here are 5 reasons your restaurant needs a website.
1. Control Your Image
Unlike things like Google Business or Yelp, you have full control over your website. You decide exactly what pictures are posted and what's written. Your website is a place for total control of your image.
2. Showcase Your Menu
Just like you have your menu easily readable and visible in your restaurant, it should be visible on the internet too. Some people take the time to post pictures of your menu for you on platforms like Yelp. You can do it yourself! Have a dedicated page of your website with the most current version of your menu. This way, customers know exactly what to expect.
3. Compete with Bigger Businesses
Every big restaurant has its own website. The best way you can compete with big businesses is by publishing a clear and usable website. Make sure it's easy to find and simple to navigate.
4. Improve Search Rankings
When someone searches "restaurants near me," they'll have a much harder time finding your business if you don't have a website. You'll rank higher on searches with your own page.
5. Build Your Brand
Your brand isn't just for logos and social media. Your website is another place to showcase your brand and ideas. Your customers should know exactly what the feeling of your restaurant is just by the look and feel of your website.
Having a website for your restaurant is a great way to maximize your exposure and drive traffic. It's not too complicated or expensive and your customers will love it.