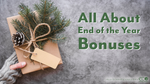 All About End-of-the-Year Bonuses
It's customary for restaurants and other businesses to give something special to their employees at the end of the year. Usually, that's a cash bonus, but sometimes it's a gift or token of your appreciation. Here are a few different kinds of bonuses. Keep reading to figure out what's best for your budget.
1. Percent-Based
These bonuses are based on a percent of their yearly income, usually between 1-2%. This is a great way to compensate your employees based on their tenure while keeping consistency between workers.
2. Flat Rate
This is the easiest bonus for you to calculate. You just give the same amount to each employee.
3. Merit-Based
This is probably the most difficult to calculate. You base their bonuses on their performance throughout the year. This also means you'll need to conduct performance reviews throughout the year.
4. Profit Sharing
The way your restaurant can implement profit-sharing is by setting aside some of your profits throughout the year and dividing it between your employees. This will allow them to feel like their a real part of your business.
5. Non-Cash
If you don't have the budget to give your employees reasonable cash bonuses, you can give them gifts instead. Things like movie tickets, gift cards, and bottles of wine (if they're over 21) always go over well. This way they can still feel appreciated without you having to spend much money.
Giving your employees Christmas bonuses is a great way to show them your appreciation. It's especially important to recognize their hard work during the holidays because they're working instead of spending time with their family.