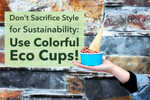 Don't Sacrifice Style for Sustainability: Use Colorful Eco Cups!
When you think of eco-friendly restaurant supplies, you probably think of kraft brown and raw wood, right? There's a reason for that: traditional ink doesn't biodegrade. Even if something is printed on biodegradable paper, the ink makes it bad for the environment. We have a solution for you: organic soy ink.
What is Traditional Ink?
There are two main types of ink: writing and printing. We'll be focusing primarily on printing ink. When working with inkjet printers, you're using powder toner rather than liquid ink. Toner is made from polyester. When working with other types of printers, you'll be primarily working with liquid ink. Typically, that's made from petroleum. Neither of these ingredients are sustainable.
Because traditional ink isn't biodegradable, most eco-friendly supplies are plain and boring. Usually, they're kraft brown or white with dull and unexciting designs. Using traditional ink to print on eco-friendly cups will stop them from fully biodegrading.
Break Away from the Brown
We print with organic soy ink that's fully biodegradable. Our colorful eco-friendly cups will fully biodegrade without leaving any trace. They're coated with PLA (made from corn starch) so your customers don't have to worry about leaking or soggy cups!
Colorful eco-friendly cups are the perfect way to stay stylish and sustainable. With soy ink, you don't have to worry about harming the environment with your printed cups.
Do you use colorful eco-friendly cups? Take a picture and tag us on Instagram! We love hearing from you.