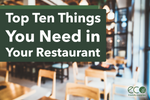 Top Ten Things You Need in Your Restaurant
Opening a restaurant can be incredibly stressful and incredibly fulfilling. There are a lot of moving parts in this process. It's easy to forget the little things, so we compiled a list for you! Here are the top ten things you need in your restaurant.
To-go containers are something that every restaurant needs. Even if you don't offer take out and delivery, your customers still need to-go containers! You never want your customers to have to leave without taking their left-overs.
2. Commercial Blenders
Blenders are incredibly important for any restaurant. You may think it's okay to use a regular one instead of a commercial blender. You'd be surprised the difference it makes! Commercial blenders are much quieter, stronger, and easier to clean.
3. Gloves
In our current climate, food safety is more important than ever. To keep yourself and your customers safe, your employees need gloves! They're an extra layer of protection against any contamination.
4. Food Scales
There's a reason bakers always use scales to measure, it's the most accurate way to do it! Food scales are a great way to reduce food waste. You'll always have the same portion sizes.
5. Drink Carriers
Alongside to-go containers, drink carriers are vital for any restaurant that serves drinks. To help your customers bring their drinks home, you need drink carriers!
6. Napkins
Napkins are incredibly important and often forgotten. Even if your food won't get all over your customers' hands, they still need napkins! Not to mention, napkins are just a great way to keep your establishment a little cleaner.
You may have reusable utensils, but you need disposable ones! Disposable utensils are more sanitary and your customers can even take them home if they need to. Disposable utensils are definitely a great addition to your restaurant.
8. Machine-Washable Cleaning Cloths
To clean your tables and frequently-touched surfaces, you need some kind of cloth. You could use disposable cleaning cloths. The issue with that is the environment, cleaning cloths don't typically biodegrade.
9. Tip Jar
Tip jars are the perfect addition to your restaurant! They give your customers a chance to thank you and your servers. Tip jars are a great way to let your employees make a little more money. 
10. Cups
Even if you only offer water, your customers still need some way to drink it! You definitely need cups in your restaurant.
Opening a restaurant is a great thing to do. This list has all the important things you need for your restaurant so you don't forget.