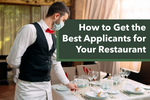 Hiring good employees is a big part of having a successful restaurant. Your employees are your biggest asset. They make or break your business. Having a good system for finding and hiring employees will save you a lot of time in the future. It'll decrease turnover and increase employee satisfaction.
How To Get the Best Applicants
1. Post Comprehensive Job Descriptions
We've all seen those job postings that don't actually say anything about the job. Those job postings don't get good applicants. Tell your applicants exactly what they're getting into. Is this job physically demanding? Is it very teamwork-oriented? Be honest about your job and its responsibilities.
2. Look in the Right Places
Posting your job in the right places makes a big difference. You may not get the best applicants if you only post your job on Craigslist. Take the time to post your job in good places. If you're looking for dedicated teenagers, contact local guidance counselors. This is a great way to employ reliable young people.
3. Make Interviews a Two-Way Street
Traditionally, the interviewer asks questions and the applicant answers them. Good interviews go both ways. Ask your applicants questions and give them a few opportunities to ask you questions. Make the situation conversational enough that they're comfortable asking questions.
4. Check References
References are something that everyone asks for and very few people actually use. Ask for multiple professional references and contact each one specifically. Make sure to tell your applicants that you'll be contacting their references before hiring them.
5. Go with Your Gut
If someone says they're friendly and warm with customers and they haven't smiled since you've met them, that may be a sign they won't be great with customer service. When interviewing someone, make an effort to understand what your gut is telling you. Does this applicant make you uncomfortable? Are they warm and friendly? Pay attention to your feelings in an interview.
Hiring good employees will make your restaurant a better place to work and a better place to patronize. You'll have less turnover and a better work ethic between your employees. It'll take more effort to hire each person, but it's worth it.