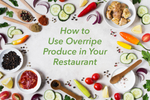 How to Use Overripe Produce in Your Restaurant
Food waste is a major issue for restaurants. Eliminating it will save you money and help the environment. Utilizing overripe produce is a simple and effective way to reduce food waste!
Here are some ways you can use overripe produce in your restaurant.
1. Make Pasta Sauce
Overripe tomatoes, carrots, and bell peppers are great for sauce! It doesn't matter if they're mushy, they'll all get cooked and blended anyway.
2. Make Hashbrowns
Sprouted potatoes may not be great for many things, but they're perfect for hashbrowns! Just grate them and fry them up. Make sure to avoid the parts with sprouts.
3. Advertise Seasonal Dishes
You may have some extra seasonal produce like zucchini or pumpkin. Don't let it go to waste! Offer seasonal specials like zucchini noodles or pumpkin soup.
4. Flavor Ice Cream
Fruit syrup makes a great ice cream flavoring or topping. Just chop your fruit up, cook it with sugar and water, and blend it until smooth. You can add this to your ice cream base or top your finished ice cream with it.
5. Pickle It
Cucumbers aren't the only thing that's great pickled! Try pickling banana peppers, onions, or even mushrooms.
Don't be discouraged by overripe produce! You don't have to toss it all. Try these fun ideas to reduce your food waste.