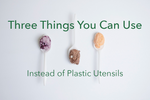 Three Things You Can Use Instead of Plastic Utensils
Plastic is incredibly harmful to the environment. Unfortunately, the industry standard for disposable cutlery and utensils is polystyrene plastic. It's cheap, durable, and sanitary. How can you offer your customers a similarly durable option without compromising the environment? We have three simple solutions for you: cornstarch, wood, and paper.
Cornstarch
Cornstarch is a readily available material most people use for cooking. We have eco-friendly spoons made from it! They're heat-safe (up to 248 degrees Fahrenheit) and completely biodegradable. While it takes 200+ years for traditional plastic to break down, it only takes cornstarch 30-40 days! Cornstarch spoons are durable, cost-effective, and eco-friendly. Whether you're serving frozen yogurt, soup, or hot cocoa, these spoons are the perfect solution!
Unlike the wooden spoons you're used to in the kitchen, our wooden utensils are made for eating everyday meals. They're made from high-quality smooth birch wood. Your customers won't have to worry about splinters with these utensils! They're smooth and eco-friendly.
While paper spoons may not have the durability of plastic spoons, they're by far the most eco-friendly. They decompose in as little as two weeks. You can easily fold them to make the perfect spoon!
Plastic seems like the only option for a lot of disposable goods. That's not the case! You can keep your restaurant eco-friendly while using good-quality materials.
Have you tried using eco-friendly utensils? Tell us about it in the comments, we love hearing from you!